Loyalty Chiefs is an independent relationship marketing agency that guides it's clients on a solid course towards loyalty success.  
Hey you! Rik Luttmer from Loyalty Chiefs here. If you want to build loyalty, I'm the one to call.
You don't have to trust me on my blue eyes, though. I'll gladly tell you more about me and my experience as a loyalty marketing consultant. 
Loyalty is both facscinating and essential. The World of Loyalty Marketing offers brands the means to obtain decisive competitive advantage.
The Loyal Tree is a magnificent phenomenon that drives human happiness and is vital for building sustainable business prosperity.
Succes stories have propelled the growth of loyalty marketing towards a mature industry consisting a diverse range of possible instruments and players.
However today, JUST HAVING A LOYALTY PROGRAM IS NOT ENOUGH. customer expectations are sky high and THERE ARE MANY OPTIONS TO CONSIDER. wrong turns lead to costly trips. As such, brands are in growing demand for independent loyalty guidance.
Loyalty Chiefs FUNCTIONS as an independent relationship marketing CONSULTANT. We consciously leave execution to the client organisation or specialised supplier network. 
We know the rules and master the tools that forge strong reciprocal relationships. Loyalty Chiefs value-added consulting is centred around success defining stages of loyalty marketing projects. Each follows a proven path, resulting in a tailor-made advice. Naturally, custom procedures are possible, but often not necessary at all.
 Loyalty marketing can be a dive into the unknown. each phase has it's own challenges. we will make your loyalty project travel like an otter in water. 
Having a loyalty challenge on your plate? or maybe just want to share your thoughts?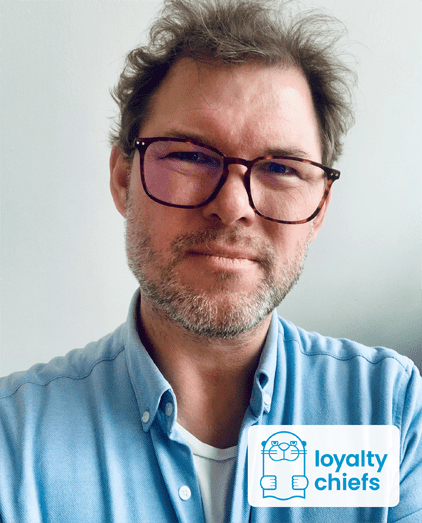 Office
Loyalty Chiefs
Keizerstraat 53
4201 XN, Gorinchem
The Netherlands
Numbers
Phone: +31-647412291
VAT: NL004263428B93
KVK: 86492365
IBAN: NL91KNAB0505416379