We are otterly committed to loyalty. And with 'we' I mean myself and Otter, my totem-animal.
Obviously, we would not dare stand in the shadows of the great historical chiefs and their tribes. But as a loyalty marketing consultant we definitely made our mark. And when it comes to building loyalty we bravely lead the way for our clients. For this, we have been called otterly awesome.    
Hi, I'm Rik Luttmer, a loyalty marketing consultant with business impact. You don't have to trust me on my blue eyes, though. Let me tell you about my experience and story.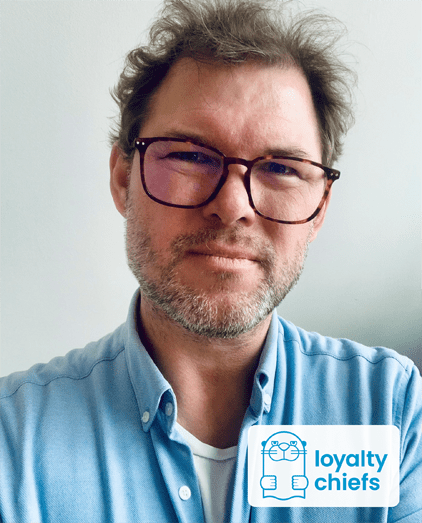 The summary? I am considered a known figure within the market for loyalty and relational strategies. In my 20 years as a loyalty marketing consultant I have guided and inspired corporations in B2C and B2B markets, as well pharma, unions and charities. My  'brand list', include names like Unilever, DHL, VW, Ziggo, Accor, Eneco, ANWB and Amnesty. For the past decade, I have been at the strategic helm of a prominent Benelux loyalty agency. A fulfilling position I concluded in 2022 for my endeavour LoyaltyChiefs.
Throughout my career as a loyalty marketing consultant, I have been actively involved in a wide spectrum of projects, in many cases as the person with final responsibility from the agency side. I've been involved in almost every conceivable type of loyalty program. I have also created numerous loyalty journey concepts, often tailored to a distinct customer life cycle phase. Developing tactical loyalty concepts is my passion, but I also have a love for strategic loyalty challenges organization-wide. And though I don't consider myself to be an insight consultant,  I do have quite some of experience on it.
Business-to-Business
59 projects
Business-to-Consumer
98 projects
In mature, saturated markets, loyalty is often under pressure.
In every market where there is choice, eventually loyalty challenges will arise.
Small competitor differences bring easy exchangeability. This is the case in quite some markets. My profession is characterized by some powerful guiding principles. However, each and every market has its unique dynamics and rules. That I have conducted projects within a wide array of different industries is definitely an advantage.
Mature markets are often dominated by big players. When it comes to loyalty, it's not unusual that the biggest brands also have the biggest challenges. As a loyalty marketing consultant I have done assignments for a variety of brands. Many have established roots in my home country, the Netherlands, while others are international. Some of the brands you will certainly know, but there are also a few 'sleeping giants'. They all have in common that they seriously wanted to work on loyalty and therefore hired a specialist.








Having a loyalty challenge on your plate? Or just want to share your thoughts?
Happy to hear from you.
Office
Loyalty Chiefs
Keizerstraat 53
4201 XN, Gorinchem
The Netherlands
Numbers
Phone: +31-647412291
VAT: NL004263428B93
KVK: 86492365
IBAN: NL91KNAB0505416379